Walkner wins Dakar Stage 10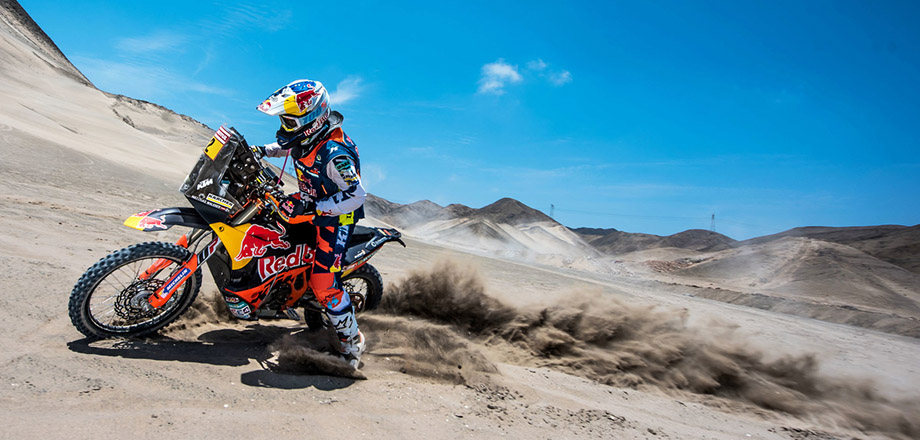 Following a cancelled stage nine, the first day of racing in Argentina was a difficult one for all competitors. A 424km liaison brought riders to the beginning of today's timed special – a 373km long route that twisted its way through the dunes and riverbeds of the Catamarca region before finding its destination at the city of Belén.
As it happened, it wasn't the intense heat that proved most difficult for the competitors but the navigation.
Matthias Walkner
was running third at the start of the second leg of the timed special, six-minutes behind the leader. Taking extreme care to find each waypoint, Walkner navigated his way successfully to the finish and was surprised to find himself the first rider home. The Austrian now leads the provisional overall standings by a sizable 39 minutes and 42 seconds.
Matthias Walkner:
"What a day. That was such a tough stage, not only because of the heat but because of the navigation, too. I knew today how important it would be to bide my time and concentrate on finding each waypoint successfully. Better to spend a few seconds getting things right than pushing on, wasting a lot more time after getting lost. When the tracks from the guys in front disappeared, I got a little worried that I had made a mistake, but I carried on and trusted myself. It was a big relief when I saw the waypoint validated and I reached the finish. It's always good to take a stage win, but never nice when one of your opponents crashes out. I hope Adrien (Van Beveren) is ok. We have a hard stage tomorrow so I'll go about it in the same way and try not to make any mistakes."
Results Stage 10 – 2018 Dakar Rally
1. Matthias Walkner (AUT), KTM, 4:52:26
2. Pablo Quintanilla (CHL), Husqvarna, 5:04:01 +11:35
3. Gerard Farres (ESP), KTM, 5:08:47 +16:21
4. Oriel Mena (ESP), Hero, 5:13:11 +20:45
5. José Ignacio Cornejo (CHL), Honda, 5:15:40 +23:14

Provisional Standings after Stage 10 – 2018 Dakar Rally
1. Matthias Walkner (AUT), KTM, 32:21:03
2. Joan Barreda (ESP), Honda, 33:00:45 +39:42
3. Kevin Benavides (ARG), Honda, 33:02:26 +41:23
4. Gerard Farres (ESP), KTM, 33:08:49 +47:46
5. Toby Price (AUT), KTM, 33:11:21 +50:18

Text: KTM Press, Photo: PhotosDakar.com