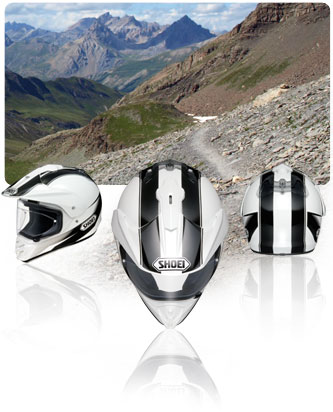 ON- AND OFF-ROAD HELMET
The new dual-purpose SHOEI Hornet-DS delivers double action!
The Hornet-DS is a SHOEI helmet that is designed for use on all terrains. It unites the advantages of a full face helmet with those of an off road helmet.
That means first-rate enjoyment both on and off the road. SHOEI's Hornet-DS is the perfect symbiosis of design and function.

The removable visor shield doesn't just look fantastic, it also ensures perfect aerodynamics and keeps the rider's face safe from flying dirt on off-road terrain. The wedge-shape design reduces drag especially at high speeds.
It diverts the airstream to the back of the helmet which reduces wind pressure.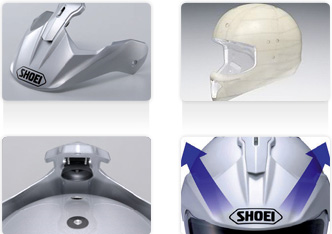 Visor & Nose Cover
The innovative 3D pinlock visor puts the finishing touch to the helmet's look.
Ensuring excellent visibility and minimising reflective glare, it can be locked into 4 positions.
A sealing lip that was specially designed for this helmet provides a tight seal when the visor is closed.
The aggressively-shaped nose cover has an integrated slide regulator to control air intake.
The nose cover can also be completely removed for cleaning.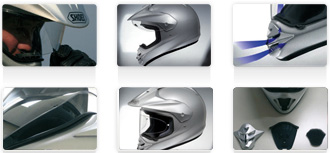 Ventilation
An efficient ventilation system is one of the features that makes the difference between
a helmet and a comfortable helmet.
SHOEI is a pioneer in this field as a result of many years of experience and
numerous tests. The top air inlet at the centre of the shield lets fresh air into
the HORNET-DS. System-independent air inlets at forehead level provide an
additional direct air intake.
Warm and exhaled air is guided to the back of the helmet via air channels and discharged at the neck via the Air Stabilizer 3 and additional vents at the neck. The Air Stabilizer 3 also channels theairflows at the back of the helmet forenhanced stability.
This reduces neck fatigue, especially at high speeds.
Air inlet vents in the chin area and on the top edge of the visor prevent misting.
The effectiveness of the helmet's interior ventilation has been perfected in many different tests.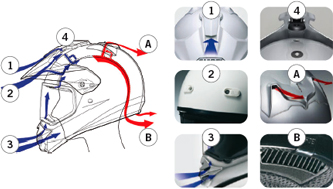 Helmet fiT
The inner liner which is adapted to the shape of the head guarantees a safe and comfortable fit.
The 3D centre pad, the cheek pads and the chin strap cover are detachable and washable. There is a groove for spectacles in the cheek pads. Cheek pads in different sizes can also be used to optimise the
helmet's fit. The chin section design allows plenty of space around the mouth and the chin curtain reduces air turbulence in the lower helmet area, which also reduces noise.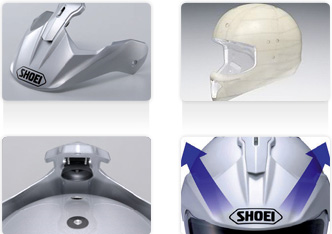 SAFETY

Shell in AIM +
Modular EPS liner system with two densities
Mist-retardant C-49 pinlock visor
Double-D ring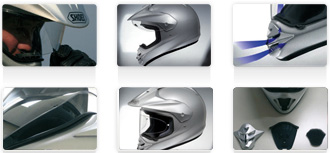 WEARING COMFORT

4 different outer shell construction sizes
Size XXS - XXL
Low weight of only 1,430 g (+/- 50 g) for size M
cheek pads and 3D centre pad
Entirely detachable and washable inner liner
Detachable and washable chin strap cover
Chin Curtain H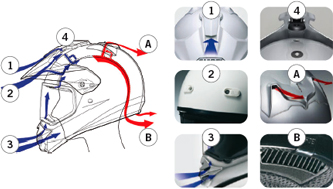 VENTILATION

Multiple venting and extraction
Inlet vents in the upper head area, forhead and chin areas
2 outlet vents integrated in the Air Stabilizer, 2 in the neck area
Separate visor ventilation
Nose cover


ACCESSORIES
2 different visors (C-49PN clear, C-49PN light smoke)

cheek pads and 3D centre pad
The helmet comes with a Chin Curtain H
covers for the visor mechanism
original SHOEI helmet bag