KTM goes MotoGP
In front of 80.000 fans the KTM testriders Mika Kallio and Alex Hofmann presented at the austrian Red-Bull-Ring in Spielberg the new RC16 racebike. We asked KTM motorsport captain Pit Beirer and testrider Alex Hofmann about the way of KTM into the MotoGP world.
Text: Wolfgang Brandt, Photos KTM: Campelli M./Focus Pollution, Philip Platzer, Simon Cudby

On two flying laps Alex and Mika showed how the MotoGP KTM finally looks. Next year the bike wants to mix up the MotoGP competition with the former Tech3-Yamaha racers Bradley Smith and Pol Espargaró. This year the 33 year old Kallio races the season final on mid November at Valence with a wildcard abroad the new KTM RC16!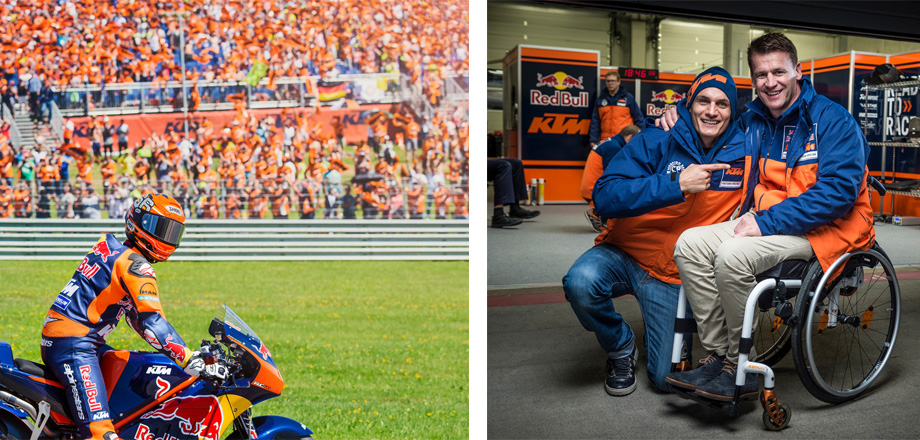 Hello Pit! When and how had KTM the idea on taking part at the MotoGP circuit?
Pit Beirer: We had this thoughts in 2003 already, but after a short adventure 2005 along Kenny Roberts we stopped it again. But the idea was always in our heads. In the meantime we where very successful in many motorsports, up to the last big highlights of winning the Moto3 world title and the US Supercross championship. Out of this enthusiasm we had the wish about three years ago to hit one of the biggest discipline in motorsports again: MotoGP.

What where the biggest challenges on this way?
Pit Beirer: In the short time that we had, I've got to name the logistics first. Regarding the size of our company we where kind of perfect to handle all offroad sports, the brand Husqvarna and the Moto3 project. But for the dimension of MotoGP we didn't have the space or the necessary manpower. So it was clear that with the start in MotoGP we also had to invest in a new motorsport building, have new cars and trucks and have about 50 additional people. With the best members we already had, it was possible to hire even more very good people. The whole team was busy to size up, while in the background the new bike for MotoGP was developed.
And from the technical view?
Pit Beirer: In this case you cannot mention a single part, because such a bike has never been build in our factory. So every little part had to be developed and the people who can build it, had to join the team. So the whole project was a big challenge, not just a single part.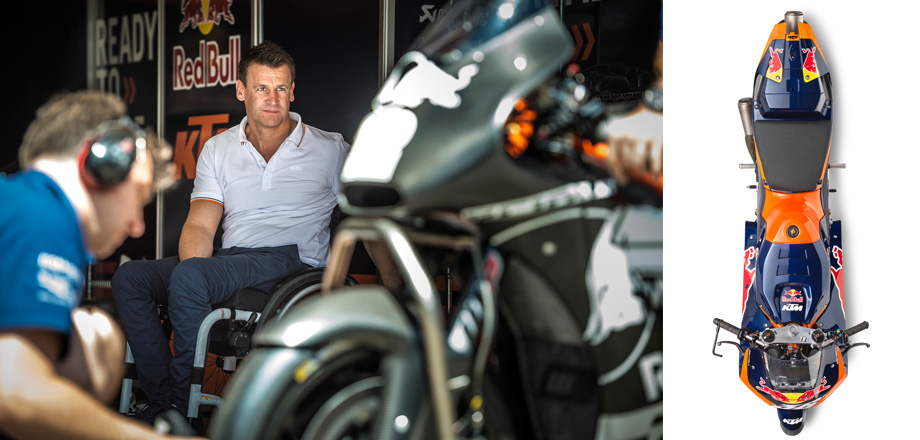 How much did you benefit of the already existing stuff?
Pit Beirer: Our engine of 2004/2005 for sure was the first benchmark for us. But all parts have developed since then, they're lighter and stronger today. Some ideas are from that time. Very important was Mr. Kurt Trieb - he was building that engine, came from Formula One and built a lot of race engines for us, also the one for Moto3. With that experience he build the MotoGP-engine, his masterpiece from my point of view.
You mentioned the Moto3 class. How important was this experience for you?
Pit Beirer: Many people that built a highly competitive Moto3 bike already know a lot of things. How to build a good engine you learn in those classes right from the scratch, because even little things count and you can't catch it with pure power of the engine. Without the entry into street racing in Moto3 this project seems to be impossible.
What's the current status of the MotoGP project?
Pit Beirer: We're on the screen now and have been doing the first two test-sessions along the competition. There we did very good laptimes right from the start. So the base is there, the new motorsport building is ready, the team for the two MotoGP racer is ready to go and we have two bikes for each rider for further testing. Now our mission is to further reduce the gap and find more tens of a second. Regarding the timetable we very good!
Alex Hofmann: The bike KTM had at the first test was already no prototype but a ready racebike! It has done the right things right from the beginning. Even after half of a year I'm still very impressed what they did in such a short time.
What was the biggest challenge of the first rollout?
Alex Hofmann: To be the first who sits on such a hell-on-wheels bike (laughs)! You just don't know how it is before.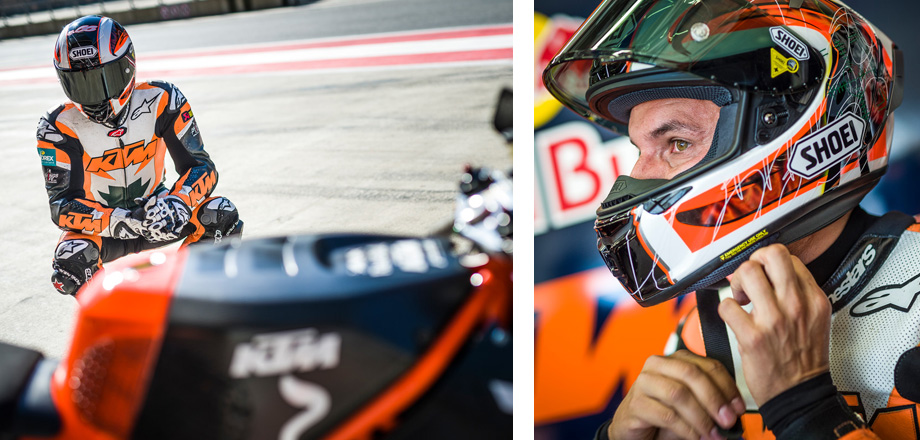 Do you have the electronics under control?
Pit Beirer: The unity electronic sounds very easy! People think that you have to add a few cables to the bike and connect them with the ready ECU who can do everything. But this is a great misunderstanding, because it is way more complex. All the possible adjustments of this electronic are amazing and are able to affect the bike in a positive but also in a negative way. But to get back to the question: yes, we have it under control (laughs)!
How much does it even help you?
Pit Beirer: His introduction closed a millions grave for everybody! For all other things we still have a big team and the question mark with how many millions of Euro extra we could make it better, is still not there.
Why did you choose Alex as one of the testriders?
Pit Beirer: Personally I know Alex since my childhood, we raced Motocross against each other. Our paths crossed from time to time, but we never had the opportunity to work together. He was a MotoGP factory rider, but we haven't been involved in street racing back then. So our paths crossed again with our entry in that. Alex is just a very good motorcycle racer. He's intelligent, knows what to say and it was very important for us to not have a rider, who places the bike directly into the gravel on the first lap. The rider better gives his first and useful feedback. With Alex we knew he can do that, as he's an experienced testrider. But he's also a friend of our brand, so it was easy to start with him.

Alex Hofmann: Somehow you have to be qualified for that. When my career as a racer came to an end, I've just started a job as testrider for Aprilia and tested Superbikes and MotoGP bikes for their factory teams. So my experience in the german speaking area is very good. At KTM Pit is more like a friend, we know each other since about 30 years! We've stayed in contact all the time and when it became obvious, we sat together.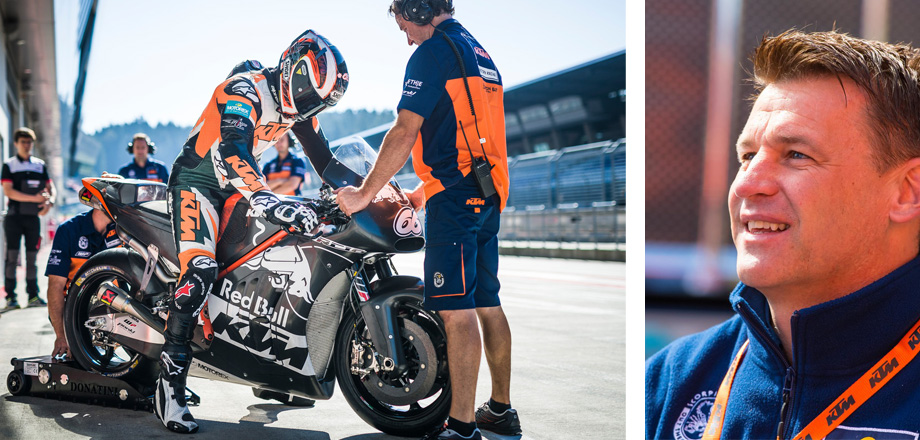 What is you main job there?
Alex Hofmann: I'm something between a testrider and marketing guy - kind of the multitool at KTM (laughs). Mika is the fulltime testrider of the KTM RC16, I still do other stuff like TV and so on next to it.
So you and Mika have different roles?
Alex Hofmann: Yes, as an active wildcard rider at MotoGP he's more the performance guy who tries to ride the RC16 at the limit all the time. I ride it every few months and give my view in which direction the whole project goes. As a racer you're used to accept problems and you ride with them. That's a very important point, because I do it less, when there's a problem, I try to find out and how we can solve it.
How many days and kilometers did you do on the RC16?
Alex Hofmann: Not too much. I've ridden three days of rollout. Last year five days for testing and I think this year about six days. Like I said, Mika is the permanent testrider plus KTM has the opportunity to let ride their other racers too. They've done it very clever and so made big steps forward in a short period of time.
What will be your job there in the future?
Alex Hofmann: Oh, we've got to see. The contracts are all for a year. But anyway - I assume that I'll ride it from time to time.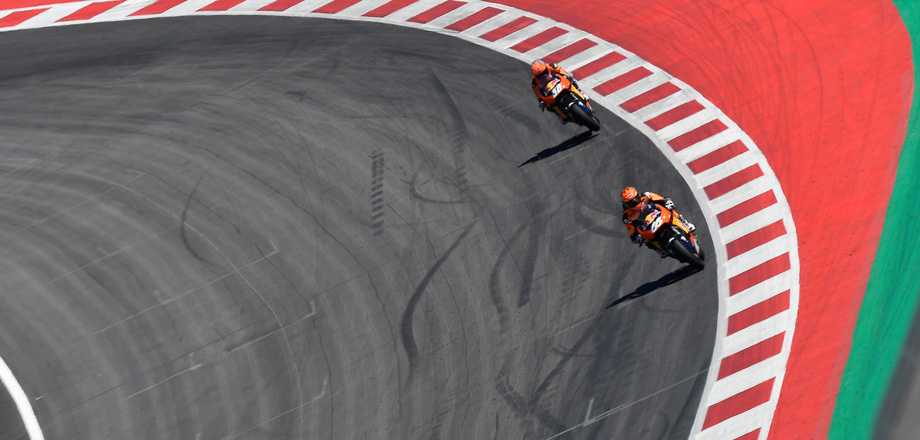 In your opinion - how much does the aerodynamic of the helmet affect the other areas too - especially the bike?
Alex Hofmann: At KTM I got not to deep into those tests but I think that's already not the focus of the project. Otherwise I'm not the right one for those tests because of my big size (laughs). But sure, when a rider like Marquez fights for the win and finds one or two km/h more topspeed on the straightaways, because of a good combination of his helmet, the transition to his suit and finally to the bike, I'd say that the helmet has his influence to the performance of the whole package.
Pit Beirer: A good helmet is in case of safety the most important thing to a rider. But the aerodynamic also plays a big role. We're strong in this area, because in Moto3 racing very small things help to find three to four km/h. The helmet also makes a difference and I guess that it'll be the case in MotoGP too. And when you take your head up at 340 km/h to brake for a corner, you're better sure that no unnecessary airstreams shake your head around! So we like to work with good helmet companies to optimize everything in the windtunnel.
Next year you have Bradley Smith as a rider - what does KTM expect?
Pit Beirer: Right now Bradley struggles big way - I think that's it's very much psychological because he said to his team very early that he'll ride for KTM next year. But when you reduce it to the fact that he was sixth of the Worldchampionship last year, he's just one of the best riders out there and knows to race such a bike at the limit! We try to give him a bike which allows him to ride like that again. He's got a good bike right now and it won't be easy to be better than that. I think we'll start with a small gap, but it must be our job - as soon as possible - that he can ride it without any compromises at he first race in Qatar. The motivation is there, his one and ours too. To start into the season with both sides on the same level is our goal.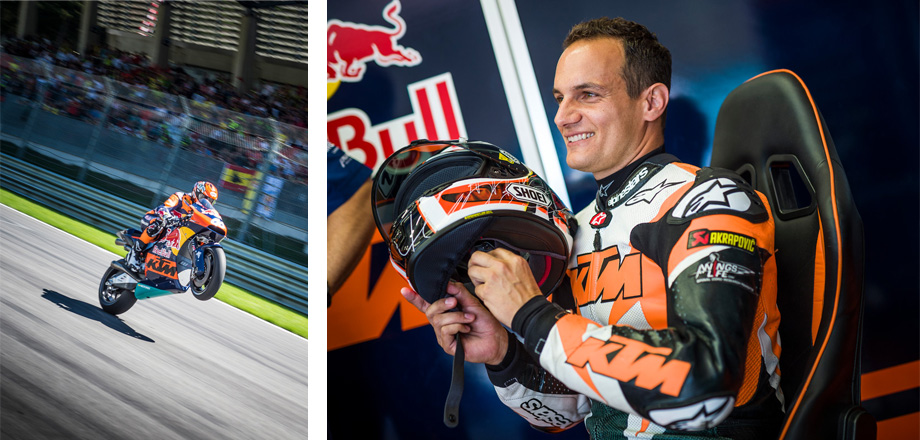 So you want to be better than P6?
Pit Beirer: Well (laughs) … the first goal is to start in Qatar with two racers. But since just taking part isn't the headline of our project, we try to place one of our riders in the top-ten asap.
Alex, you ride a SHOEI helmet for many years. What do you think about it?
Alex Hofmann: That's right, the most time of my career I raced one. Sometimes I had to wear something different, but when I had the choice, I used a SHOEI helmet. It goes into the same direction like the bikes. You always think that a helmet can't become better - and suddenly it does. That's really impressive - not just just in case of safety but also the ventilation. I'm excited about the comfort a helmet can deliver at those extreme circumstances. A top notch product with great functionality - nothing shakes or moves, everything is just in place. Today you can't compare it to the one I had at the races!
You mentioned the importance of ventilation for you. Does sweat affect you very much?
Alex Hofmann: Yes, I'm more the sweater guy, so I'm very thankful to every small ventilation goodie. I'd say that the SHOEI X-Spirit has set new standards in that area.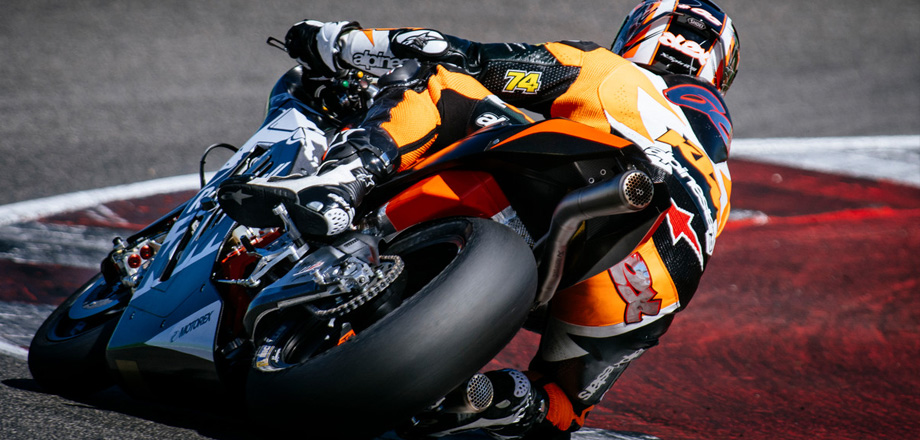 How was the change to the new X-Spirit III for you?
Alex Hofmann: That was a fluid process for me. You get used very fast to something like a bigger view or new levers. On the bike you know right from the beginning that it's still a SHOEI. Don't get me wrong - the X-Spirit III has his own character - it's not like you just wear a new helmet and go on. It's just another new and better model.
Which other bikes and helmets to you ride?
Alex Hofmann: I've to confess that I just ride the X-Spirit III on the street (laughs)! I ride the two KTM Superdukes - R 1290 and GT. I stay true to myself - onetime a racer, always a racer! For Motocross I have a 350 cc KTM and ride the VFX-W, for sure with my own painting.
Thanks very much for the talk and many success with the MotoGP project!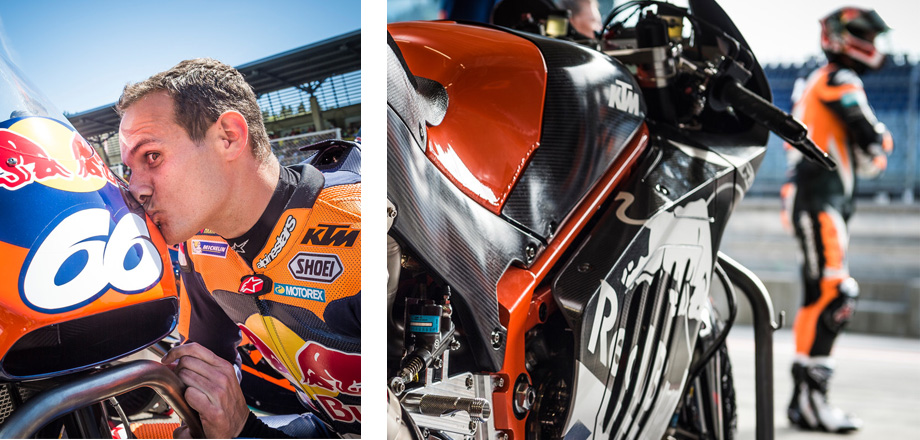 Technical data KTM RC16:
Engine: V4 (1000 cc), pneumatic valves
Power: 250 HP
Revs: max.19.000 R/min
Elektronis: Magneti-Marelli
Chassis: tubular steel frame (swing arm rear suspension: aluminum)
Wheelbase: 1400 mm
Height: 700 mm
Weight: 157 kg
Tank: 22 liters
Damping: WP Suspension
Brakes: Brembo
Tires: Michelin (17 inches)