SHOEI P.F.S. / Personal Fitting System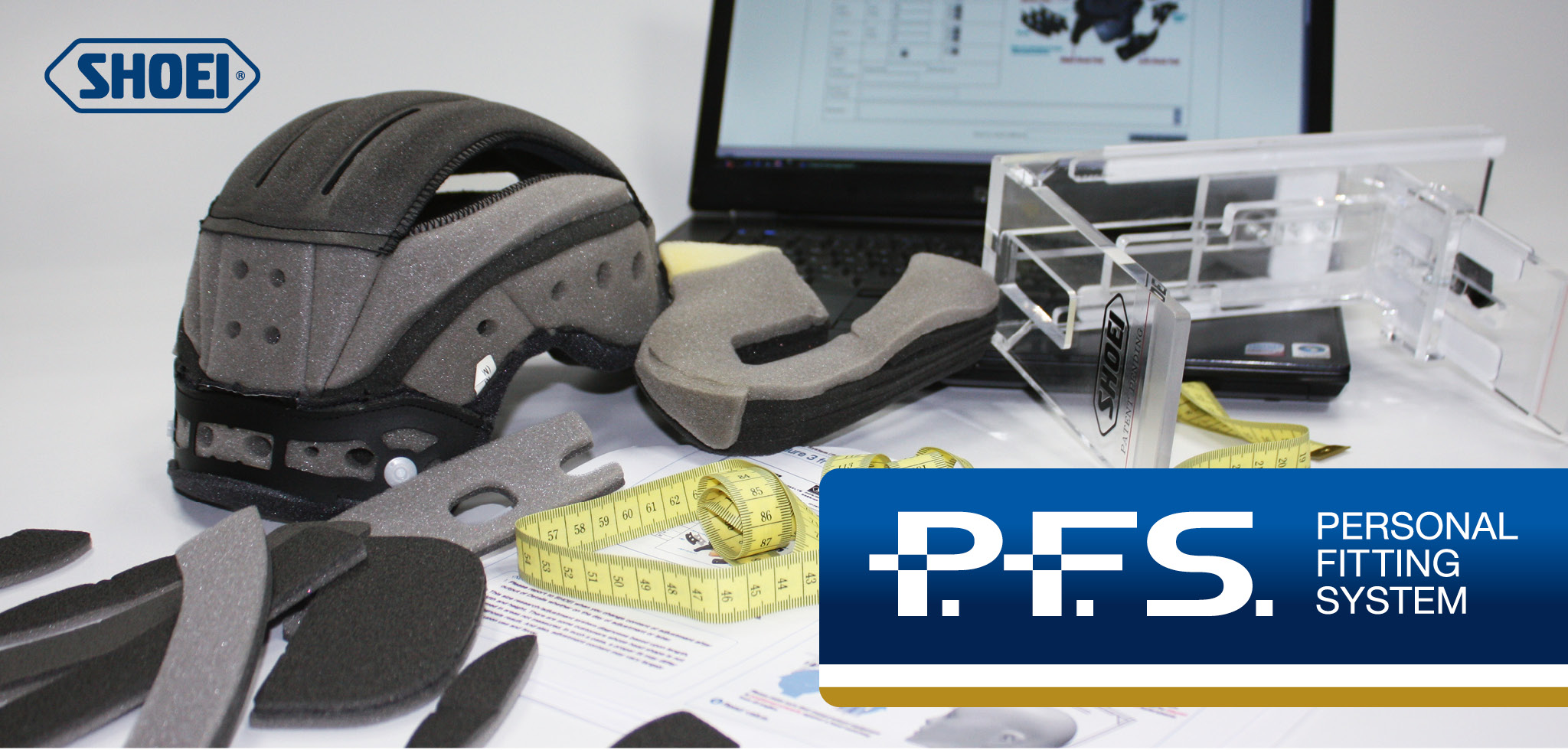 SHOEI PFS - Personal Fitting System

Core concept
A good and stable fit of the helmet in every riding situation is essential for the active safety of a motorbike helmet. In order to adjust the outstanding fit of our helmet models to individual head shapes and thus contribute to even more comfort and safety when riding a motorbike, SHOEI has developed a system for customised fitting, called the Personal Fitting System.

Analysis of head shape
At first, the head is measured with a specially developed measuring instrument. The obtained data are then entered into a software programme. Based on this data and the desired helmet model from our product range, the software generates a recommendation for the helmet size as well as a list of any necessary adjustment positions in the upper head area.
The cheek pads can also be adjusted independently of this process.

Adjusting the helmet
With the help of the recommendation, the head padding of the desired SHOEI helmet model is first provisionally fitted with special fitting pads. After a try-on and any necessary fine-tuning, the pads are finally fixed in place. The helmet is thus adapted to the individual head shape.

Adjustable helmet models
The Personal Fitting System can be used for all current SHOEI helmet models, as well as for some models from previous generations.

Time required for the adjustment
The determination of the head shape takes about 10 minutes, the adjustment and individual fine-tuning about 20 to 30 minutes.

Adjustment costs
The recommended retail price for the fitting is 60 EUR. However, the actual costs depend on the time and material expenditure. If intermediate sizes of head and cheek pads from SHOEI's range of accessories are required for the fitting, these will be charged additionally.
This also applies to adjustments of already used SHOEI helmets or helmets that have been brought along.

PFS Centres
The individual adjustment of our helmet models can be carried out at the following specially trained and certified SHOEI specialist dealers:
CZECH REPUBLIC

Richard Bayer
Phone: +420 602 847200
DG CORSE 06 s.r.o.
Phone: +420 603 507377
DENMARK
Peder Roed
Phone: +45 536 35670
GERMANY
zip code 0
Zweirad Hübner Motor GmbH
Madlower Hauptstraße 37
03050 Cottbus
Contact person: Mrs. Claudia Koch
Phone: +49 (0)355 542621
MotoLive GmbH
Ludwig-Hupfeld-Straße 16
04178 Leipzig
Contact person: Mr. Paul Bahrmann
Phone: +49 (0)341 30616171

zip code 2
MCW Profil Hamburg e.K.
Spaldingstraße 210
20097 Hamburg
Contact person: Mr. Markus Kossinna
Phone: +49 (0)40 230959
Börjes Bikers Outfit Augustfehn GmbH & Co KG
Stahlwerkstraße 17a
26689 Augustfehn
Contact person: Mr. Ahmed El Ahwal
Phone: +49 (0)4489 2541

zip code 3
Biker's Point
Dietmar Schmeil GmbH
Bauboulevard 1
30827 Garbsen
Contact person: Mr. Dietmar Schmeil
Phone: +49 (0)511 331288
VEC Handels- und Dienstleistungs GmbH
Biker Store Minden
Portastraße 52
32429 Minden
Contact person: Mr. Mathias Leipnitz
Phone: +49 (0)571 91198311
LBM Biker`s Outfit
Eckendorfer Straße 2-4
33609 Bielefeld
Contact person: Mr. Philipp Graf-Würfel
Phone: +49 (0)521 97798890
Riders Point
Daimlerstraße 5
38112 Braunschweig
Contact person: Mr. Holger Blume
Phone: +49 (0)531 48039667

zip code 4
Motosystem
Kölner Straße 297- 299
40227 Düsseldorf
Contact person: Mr. Ingo Sosnowski
Phone: +49 (0)211 72139934
Der Helmprofi Osnabrück
Pferdestraße 30
49084 Osnabrück
Contact person: Mr. Michael Schimmel
Phone: +49 (0)541 - 9772138

zip code 5
Mike's BikerShop e.K.
An der Schüttenhöhe 2a
51643 Gummersbach
Contact person: Mr. Michael Schwier
Phone: +49 (0)2261 639612
Kohl Automobile GmbH
Motorrad Kohl
Neuenhofstraße 160
52078 Aachen
Contact person: Mr. Sebastian Schell
Phone: +49 (0)241 5688454

zip code 6
Zubehör-Shop-Frankfurt
Christel Schrader KG
Max-Holder-Straße 7
60437 Frankfurt-Kalbach
Contact person: Mr. Sven Schrader
Phone: +49 (0)69 772648

zip code 7
Trinkner Autohaus & Zweiradfachgeschäft GmbH
Erligheimer Straße 7-9
74369 Löchgau
Contact person: Mr. Ralph Matzku
Phone: +49 (0)7143 8830226
Motoallround
Lindenstraße 4
76456 Kuppenheim
Contact person: Mr. Silvio Cuttica
Phone: +49 (0)7225 2138
Moto-Thek im Elztal GmbH
Hauptstraße 48
79183 Waldkirch-Kollnau
Contact person: Mr. Sebastian Bieg
Phone: +49 (0)7681 9130

zip code 8
Spätzünder Motorradbekleidung
Auerfeldstraße 27
81541 München
Contact person: Mr. Marcus Kettler
Phone: +49 (0)89 48952614
Motorrad Streifeneder GmbH
Deggendorfer Straße 41
84051 Oberahrain
Contact person: Mr. Niki Hörmann
Phone: +49 (0)8703 91778
Held GmbH Flagship-Store
Östliche Alpenstraße 32
87527 Sonthofen
Contact person: Mr. Marko Höcker
Phone: +49 (0)8321 664631

zip code 9
Motorrad TAF e.K.
Sigmundstraße 137
90431 Nürnberg
Contact person: Mr. Michael Doster
Phone: +49 (0)911 5819501
ro-ro Moto
Radmeisterstraße 4
90455 Nürnberg
Contact person: Mr. Jens Zimmermann
Phone: +49 (0)911 6435770