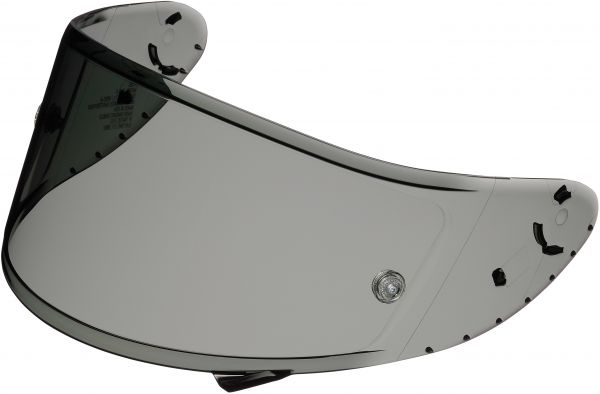 Order number:

17.26.003.0
Best success perspectives With our racing visors in various tinted versions,...
more
Product information "CWR-F dark smoke (racing)"
Best success perspectives
With our racing visors in various tinted versions, you are clearly focused on the checkered flag.
The visor of your helmet protects you against many, what comes up to you whilst motorcycling, like wind, rain, insects or dust. A careful maintenance prolongs its usage period.
If your visor is dirty, clean it carefully, as explained in the manual of your helmet or visor. If it is scratched or damaged, you should replace it as soon as possible, to avoid dangerous situations or an accident.
A PINLOCK®EVO mist-retardant lens can be retrofitted in all current full-face helmet visors from SHOEI. This provides you with a clear view in a major part of the field of vision, even at difficult weather conditions.
Only use visors suitable for your helmet model from the SHOEI spare parts range.
On this two-dimensional formed visors tear-off films for using on race tracks can be fastened. Eccentric fastening buttons provide the necessary tension for the films.
Vortex-generators on the side edges of the visor contribute to reducing the drag and lift of the helmet.
SHOEI's quick-change mechanism allows the visor to be removed and installed in seconds.
A manual with explanations for assembly and maintenance comes included with the visor.
Light transmission: 24-30% /// UV filter: >99% /// PINLOCK® preparation: Yes /// Conformity ECE R 22/05: No /// Application: Day (sunny)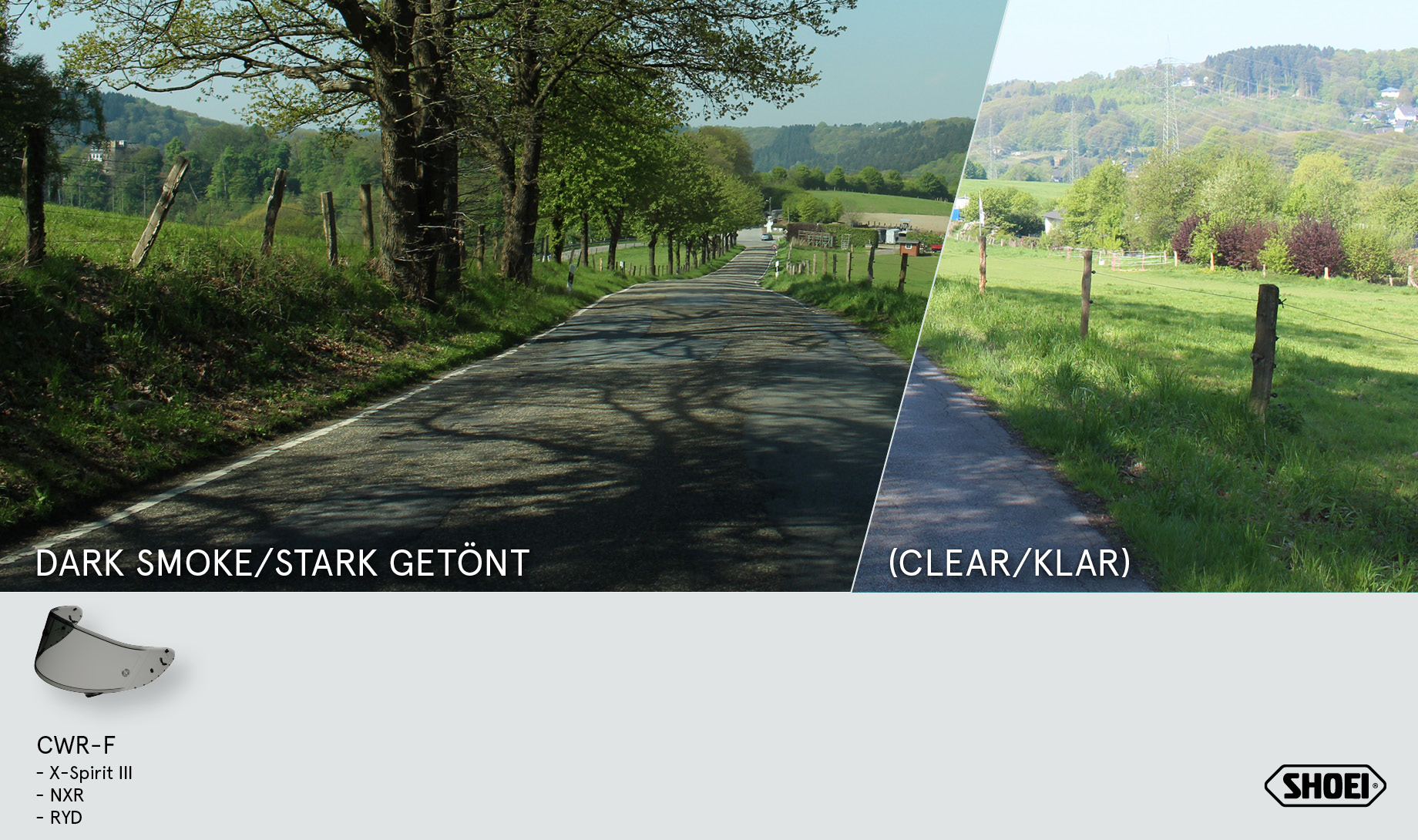 | | |
| --- | --- |
| Spare part type: | Racing Visor, Visor |
Visor Colours
Overview of the available SHOEI visor tints
Especially with helmets without a built-in sun visor, the different tints allow an effective protection against too much sun exposure.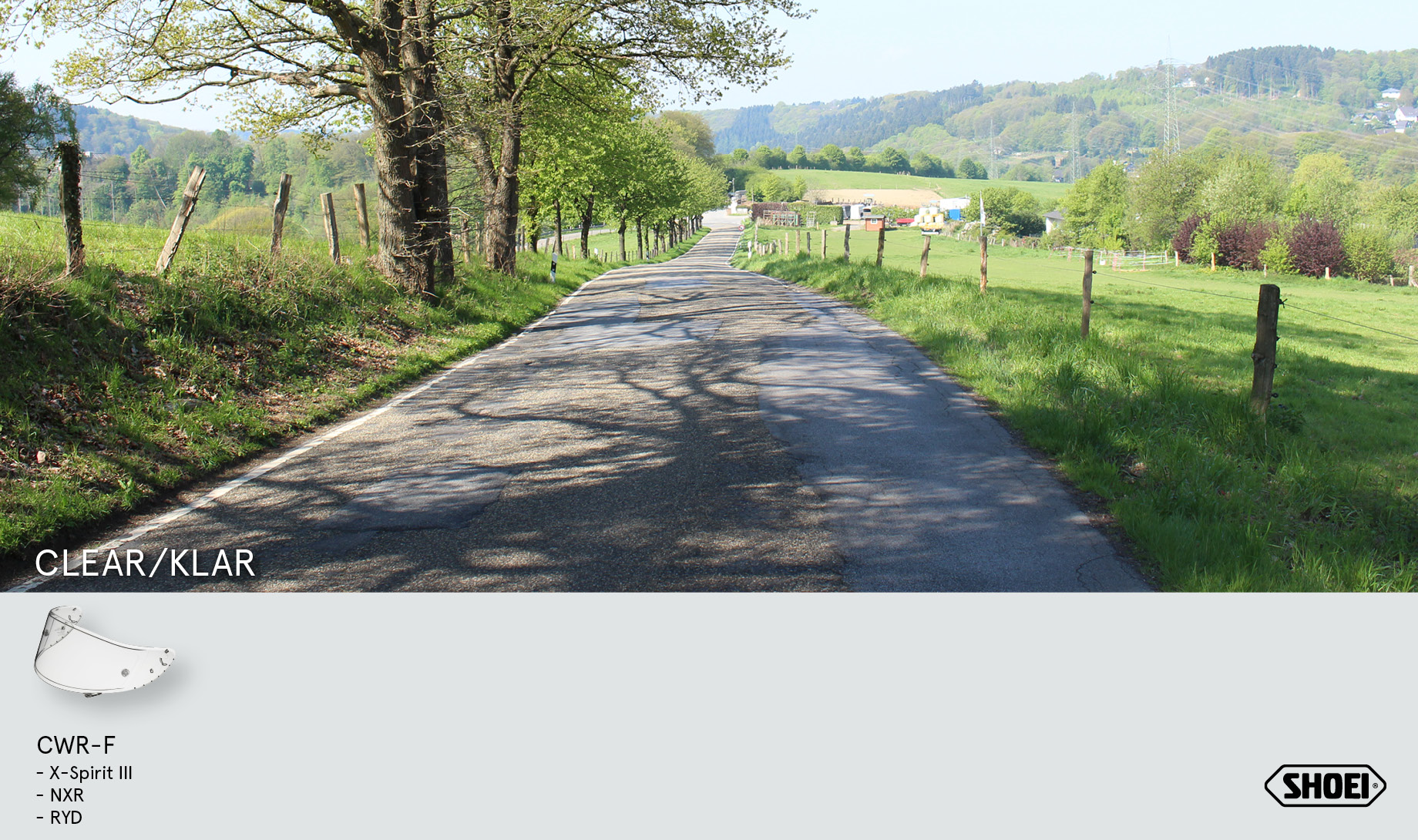 Each SHOEI helmet comes with the clear visor as the standard version. It fulfills all criteria of the ECE R22 / 05 homologation and shows the environment completely color neutral and distortion-free. As with all visors (except CJ-3 for the J•O and EX-Zero models), there are brackets for an additional anti-fog pinlock system. Unlike the CWR-1, the racing version CWR-F is not vertically curved to allow the use of tear-offs.
Pinlock: Yes /// Standard ECE R 22/05: Yes /// Light transmission: min 85% /// Usage: Day / Night (without Pinlock)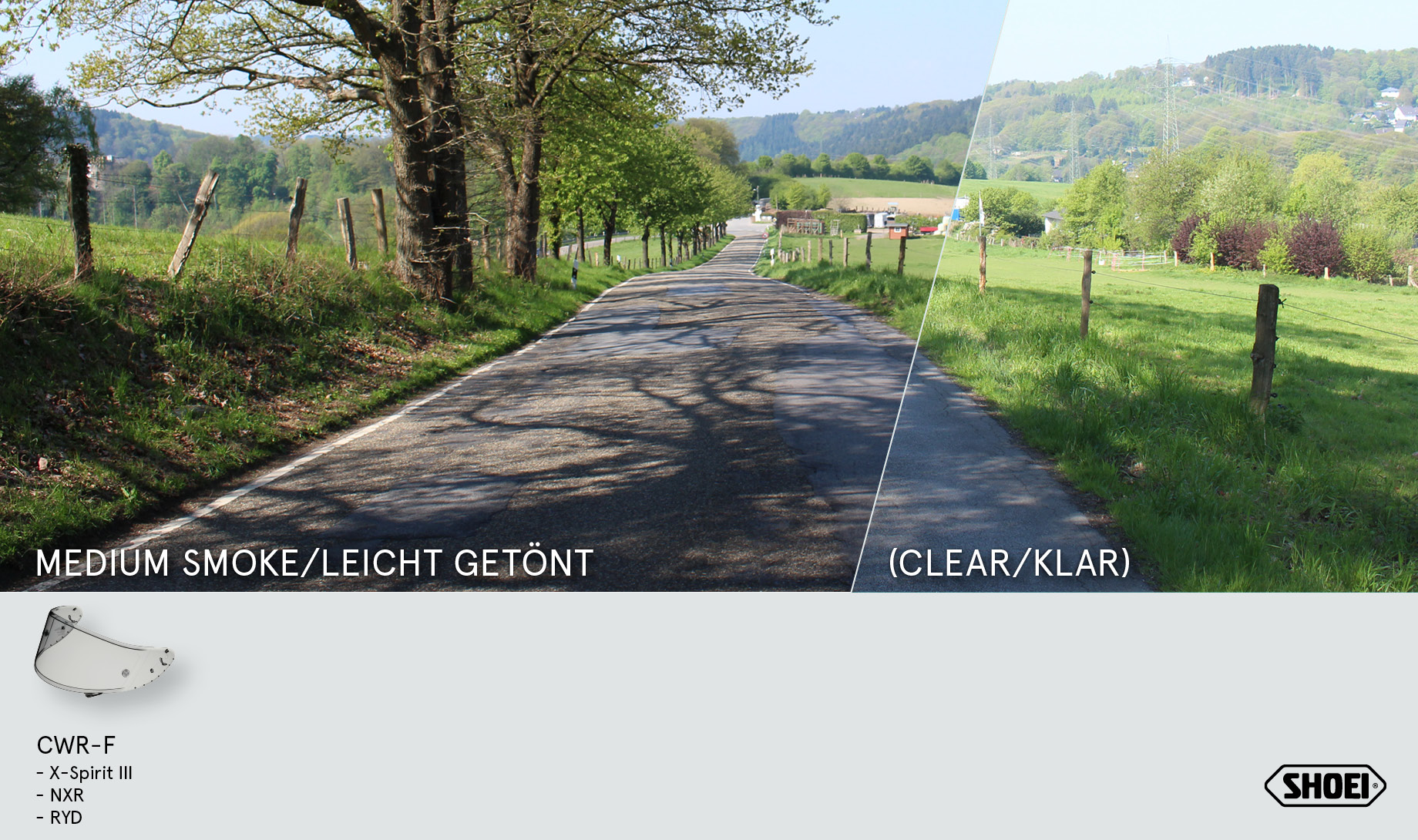 The slightly tinted visor (Medium Smoked) is relatively inconspicuous but very pleasant to ride. It is only slightly colder (gray-blue) than the neutral impression with the clear visor. Even in bad weather up to dusk, this visor still offers a very good view. In the dark, however, it can not be driven according to the ECE standard, as it is - even if low - tinted. Unlike the CWR-1, the racing version CWR-F is not vertically curved to allow the use of tear-offs.
Pinlock: Yes /// Standard ECE R 22/05: Just CWR-1 and CNS-1 /// Light transmission: min 56-62% /// Usage: Day (sunny up to changeable weather)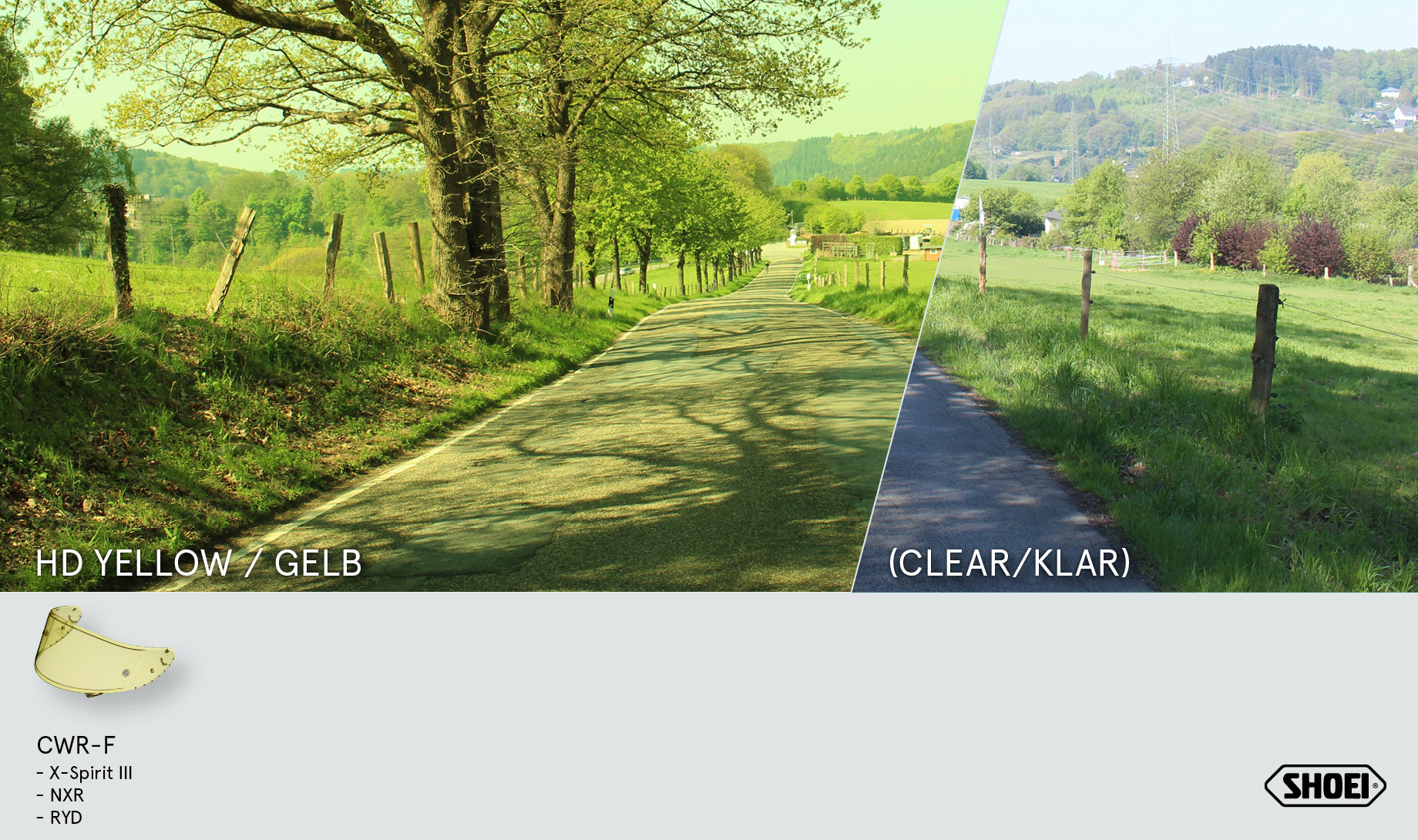 The yellow HD visor has a slightly contrast-enhancing effect, especially when the weather is bad or rainy and has been developed for the race track. In fact, you have the impression that all dark parts are lightened somewhat and by the way the weather appears more sunny and better than it actually is. A dark tint is really not to be observed in any weather situation. However, this visor can not be driven at night, according to ECE R 22/05 standard. The yellowish sight is a matter of taste, whereby the eyes become very accustomed with time. Unlike the CWR-1, the racing version CWR-F is not vertically curved to allow the use of tear-offs.
Pinlock: Yes (not for CJ-3) /// Standard ECE R 22/05: No /// Light transmission: 85% /// Usage: Day, bad weather (contrast enhancing)
Information and care instructions:

ECE helmet standard
The currently valid ECE R 22/05 helmet standard requires a light transmission of at least 80% for visors, so it can be used around the clock without any problems. Visors with a lower light transmission of 50-80% receive the addition "For daytime use only", so are only suitable for use during the day.

Cleaning
As with the helmet, lukewarm water with some liquid soap should be used for cleaning the visor. The concentration of the soap should not be too strong as it could collect under the plastic parts and damage it.

Visor cleaner
There are special visor cleaners that are often used to clean the entire helmet. Again, you should not use too much of it to avoid damage to the rubber and plastic parts.

Drying
In order to subsequently dry the visor and avoid unwanted streaks, a lint-free, fine microfiber cloth should be used for this purpose.

Scratches
In no case should the visor 'fast and easy' be wiped with the motorcycle glove or other unsuitable or dirty objects! This can lead to scratches especially in the case of coated visors. If a visor has strong scratches, it is recommended to replace it. On the one hand, the aging process is accelerated with scratched visors; on the other hand, scratches also present a safety risk precisely in the field of view. Especially mirrored visors ("Spectra") can scratch with careless treatment and thus create unwanted glare.

Softener
Visors contain so-called softener, which evaporate over the years, which is intensified by frequent use and UV light. As a result, the visor loses its flexibility and, in the event of an accident, it can even collapse and cause severe cuts in the face.

Exchange
The visor should be replaced after five years at the latest. For example you can find the production date of the SHOEI visors on the left side of the visor with a four-digit number string (month, year).