Interview
Fabio Di Giannantonio –
Eat. Sleep. Ride. Repeat.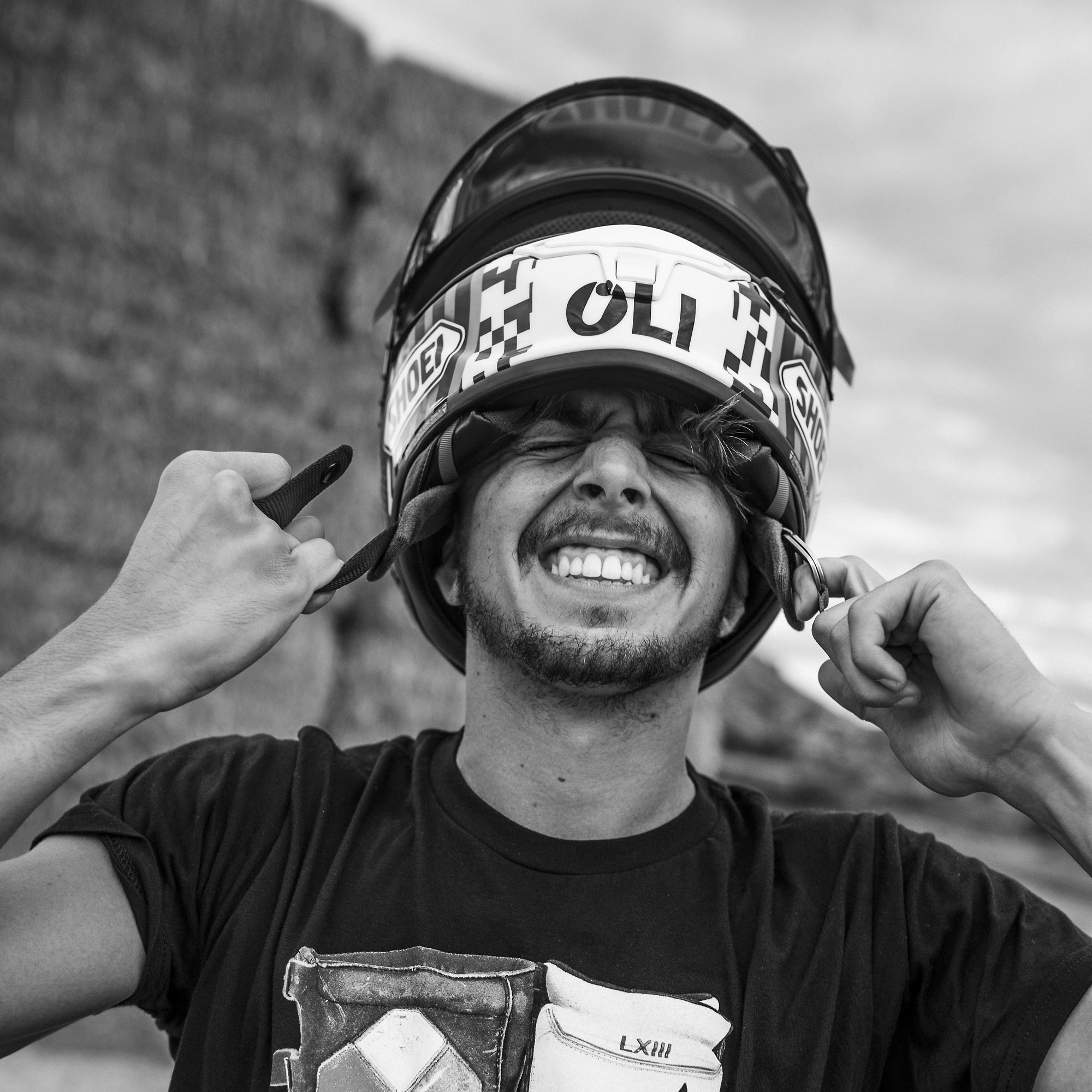 Let's start at the very beginning. Why and how did you start racing motorbikes?
"I started racing when I was a little kid, about 5 years old. At that time I watched a lot of races on TV with my dad. Once we went to a small circuit near my parents' house and I tried it out of curiosity and had a lot of fun. From then on, my family and I started racing, just for fun. On weekends, we went to the races in a camper. It started as a game and became the centre of my life."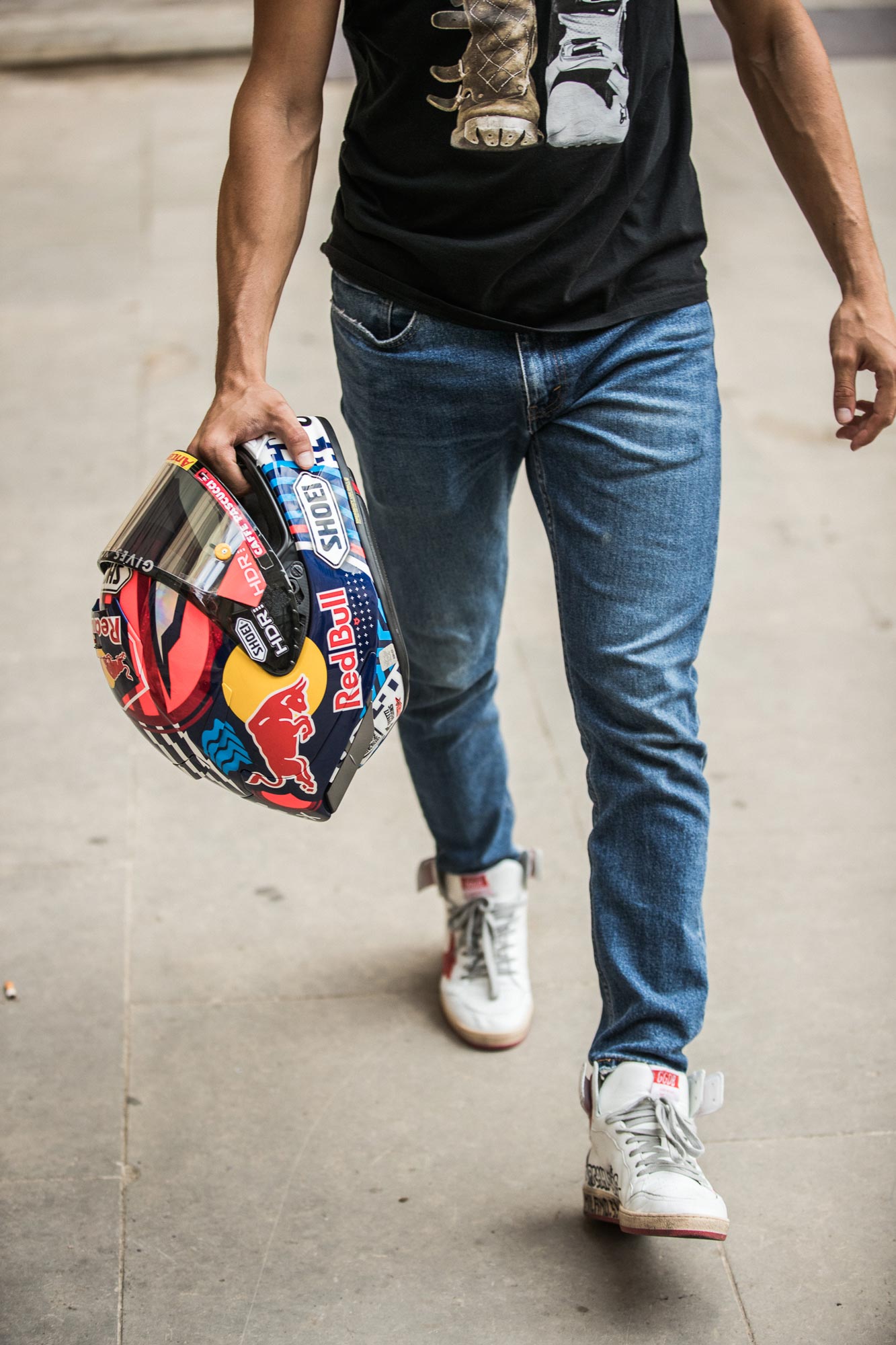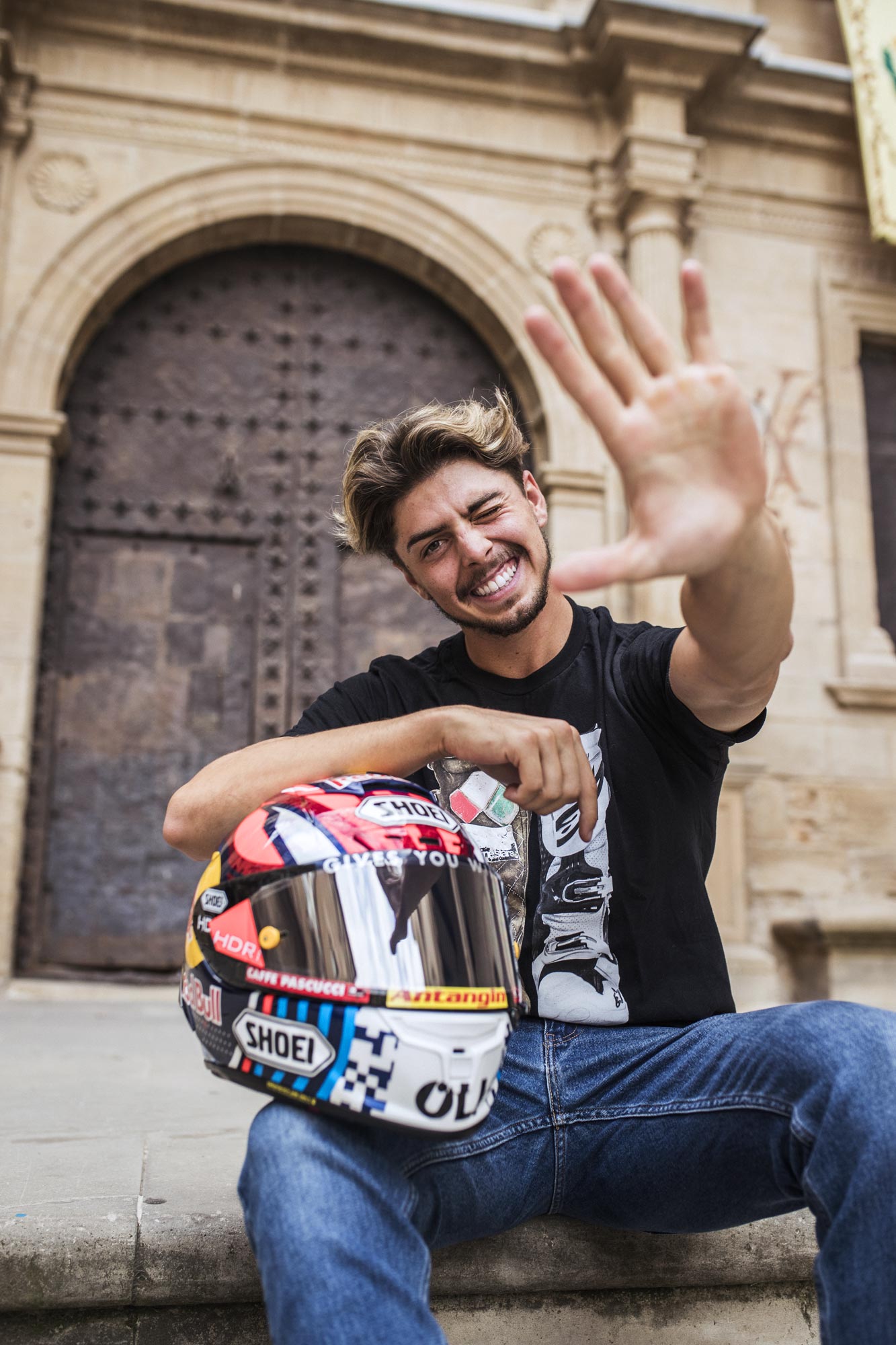 Which riders did you look up to back then and do some of them still race against you?
"Honestly, it's amazing to race against the riders I saw on TV a few years ago. For example, Sam Lowes. He was my teammate at the beginning of my career. He was in Moto2 then and gave me a lot of advice. Now we are competing against each other. Next year in MotoGP it will be fantastic to be one of the top riders. There are many great champions, like Dovizioso and Márquez, who I watched on TV as a little kid. I dreamed of racing against them and now it's becoming a reality."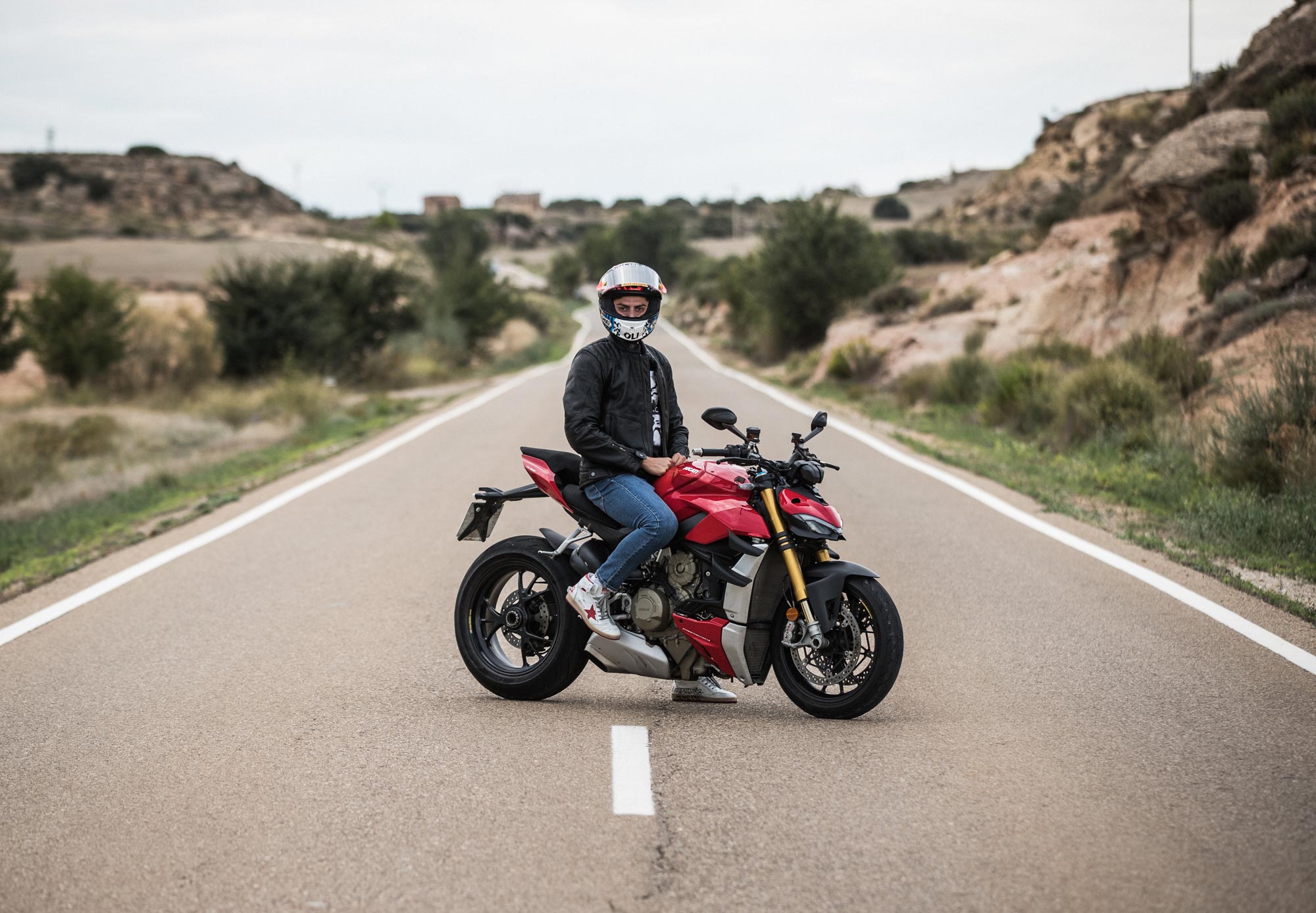 Next year you start a new adventure on a Gresini Ducati MotoGP bike. What are your feelings about it? Are you looking forward to riding this beast or are you scared?
"For sure it will be an incredible feeling and very emotional, especially as an Italian on a Ducati. It's a dream come true. The first laps on the bike will be something I will remember for the rest of my life. I'm not scared, I'm just dreaming about it. I can't wait to ride the MotoGP Ducati. It will be huge for me."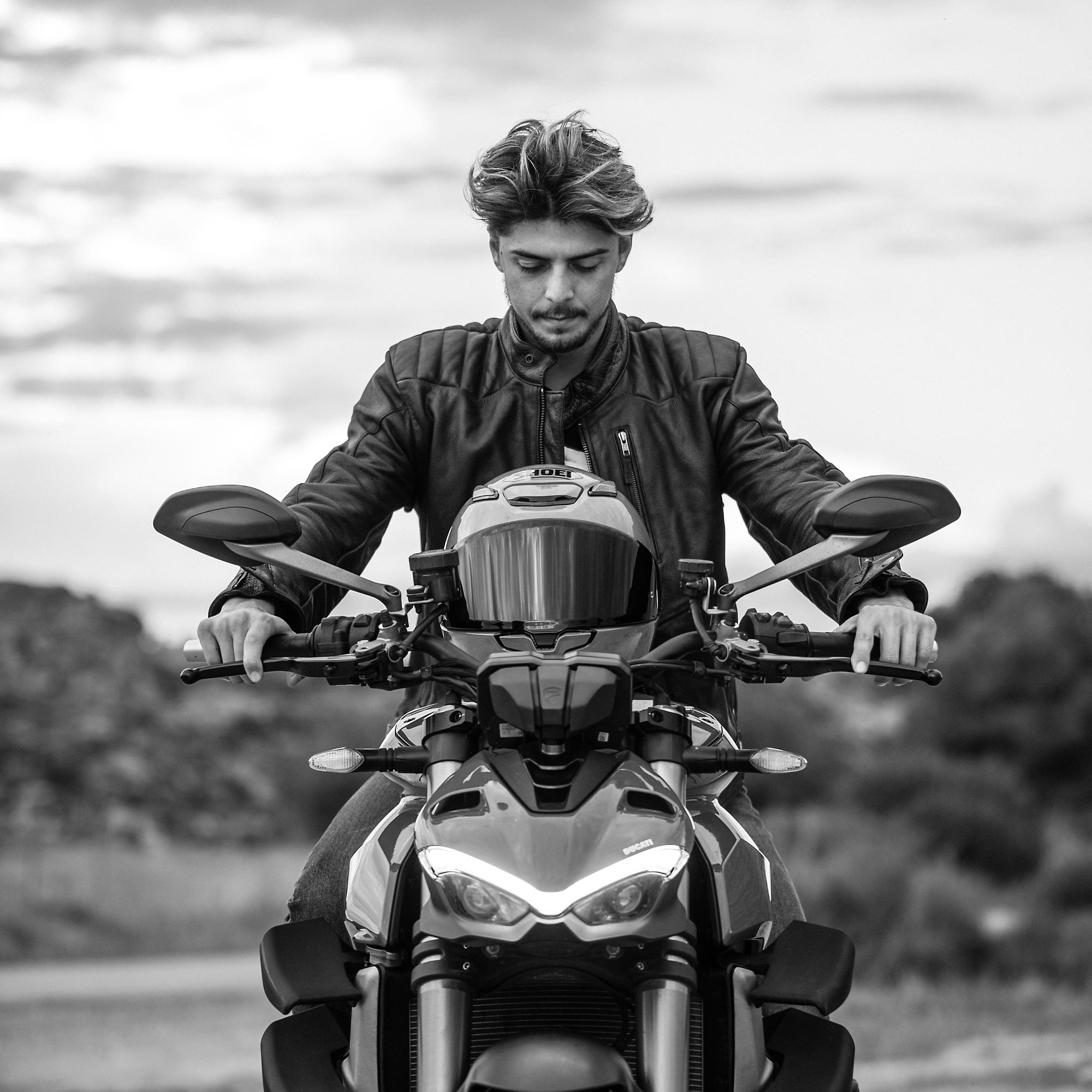 In the smaller classes you always struggled with your weight because you are quite tall. That should not be so important in MotoGP. So we assume there was a big pasta party when your MotoGP Ducati contract was secured? Will you change your training to prepare for the big bike?
"That is true, I always struggled with my weight in the smaller classes because I'm quite a tall guy. Unfortunately, weight is also important in MotoGP for many reasons. So I'm afraid I still have to keep an eye on my weight. For training, I'm not going to change anything in particular. The goal is to get faster and stronger in every way and be a better athlete. But pasta parties will definitely happen. Sometimes you need a pasta party with friends!"
Tell us a little about your training. We only see you on the track at the weekend, but there must be a lot going on besides that. What is your normal weekly routine like?
"Training is one of the most important tasks for any rider. It's the time when you concentrate and focus on the next weekend. I usually go to a gym where I meet with my coach. I train a lot with CrossFit exercises, but with light weights so I don't build up too much muscle. As I said, I have to keep an eye on the weight. I also do a lot of endurance training, like running and cycling. I do some motocross and flat track, but training in the gym is the biggest part."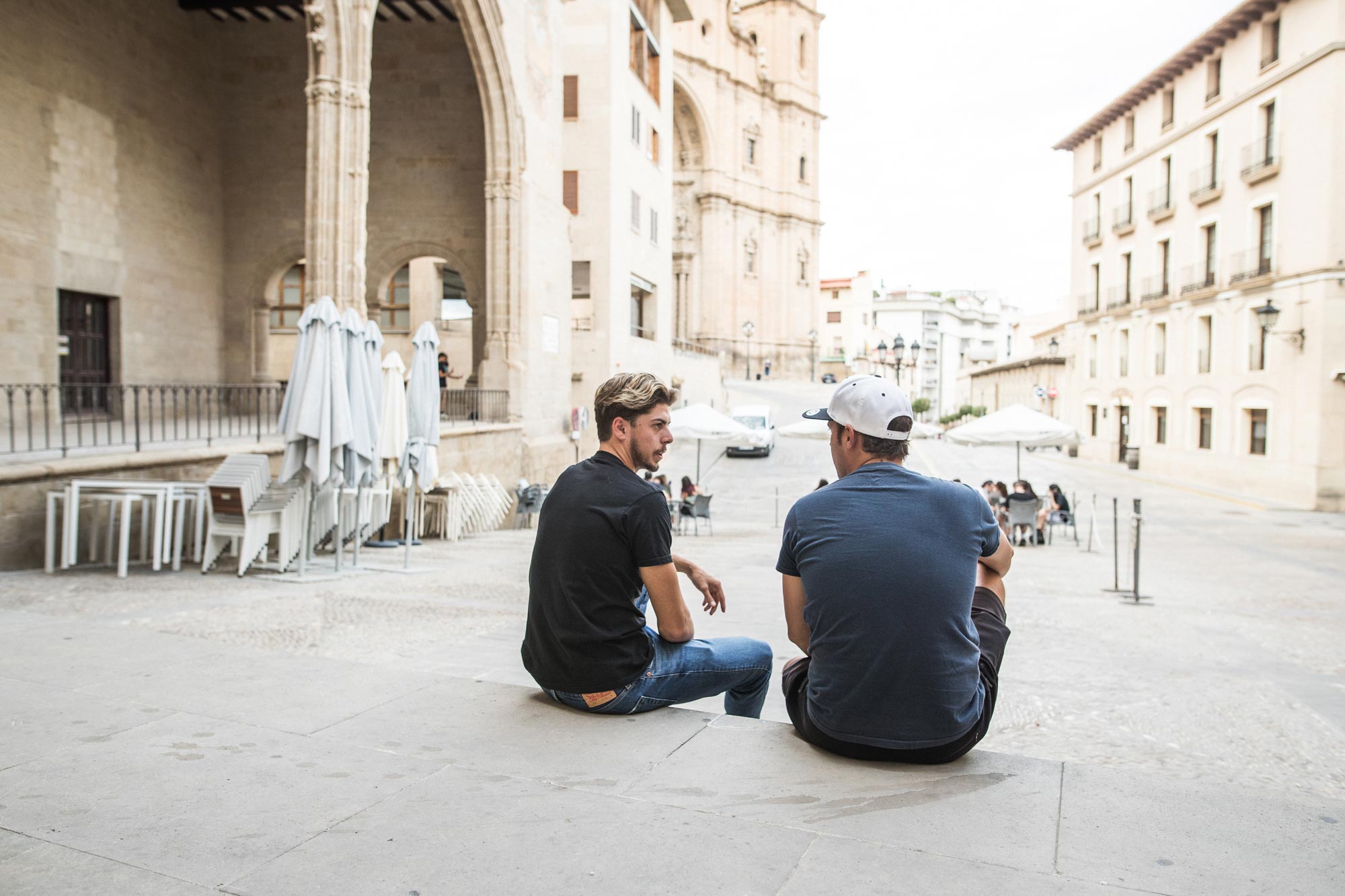 What about mental training? Although motorbike racing is still considered a 'tough guy sport', there is an incredible amount of pressure on riders and we have seen talented riders struggle with this recently. Do you have support or actively train in this area?
"Right, the mental component is very important for a rider. I don't train specifically or with an expert. I just try to surround myself with people I like and trust. Like my assistant Fabio and my manager Diego. These people support me in every race. Also, I have my coach at home. With him I can talk about my feelings and he gives me tips for my mindset."
Looking at the number of crashed helmets, you are one of our riders with the fewest crashes. What were your hardest injuries and how do you deal with them in general?
"Really? I didn't know that. I hope I can keep going like this. I've had a few crashes, but luckily I have the best head protection. A crash is never nice, but the passion to race is always stronger. Even if it hurts, the will to improve in competition is always stronger. I always return to the bike."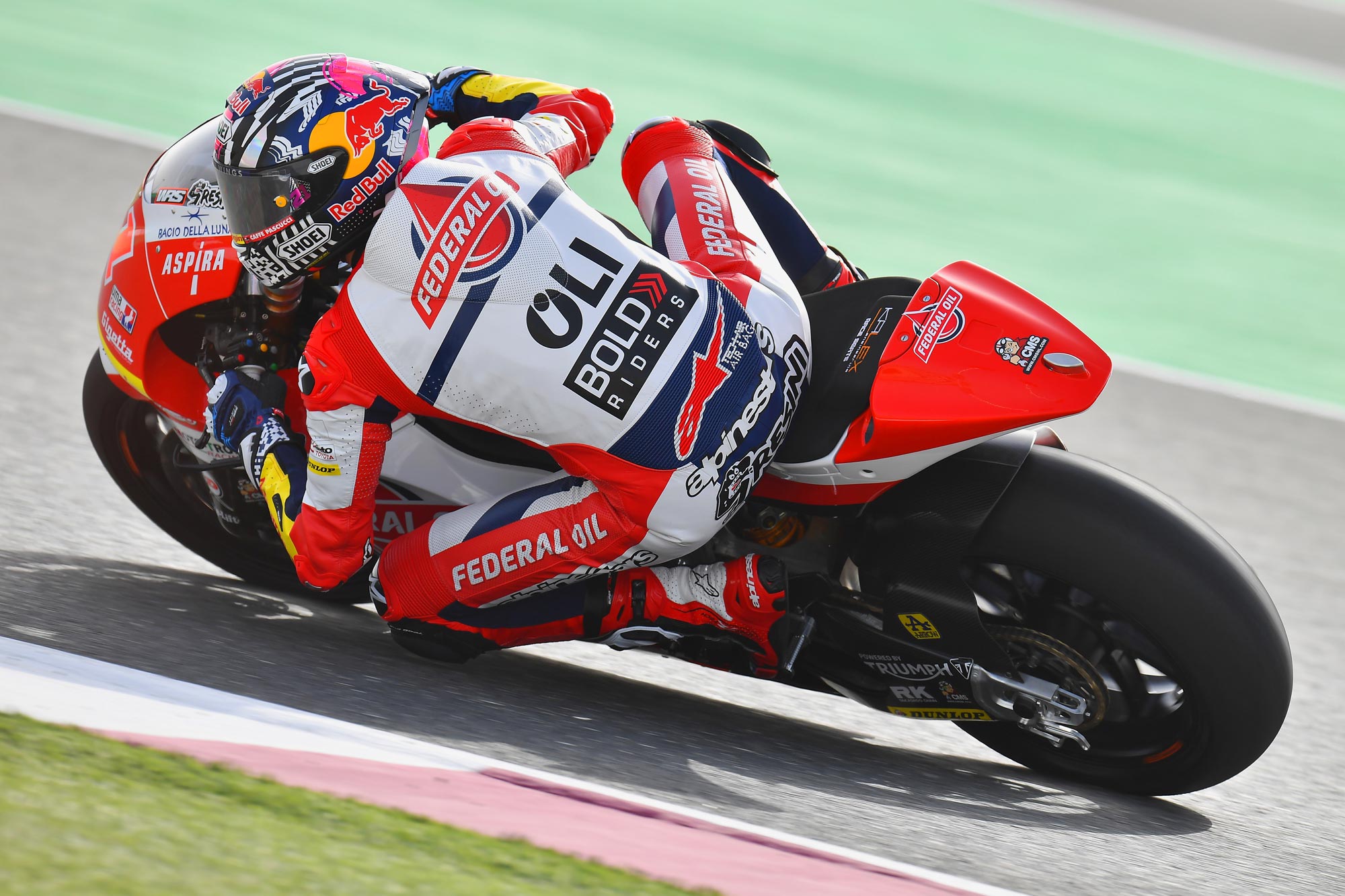 Do you do other sports besides motorcycling? Your manager is quite active in football. Ever thought of changing sports?
"I played football since I was a little kid until I was about 16 years old. I also played many other sports like kayaking, climbing, judo and swimming. But I definitely won't change my current sport. I love motorsports, racing and especially motorbike racing. But apart from that, it's nice to have Diego as a manager and to benefit from his knowledge of other sports."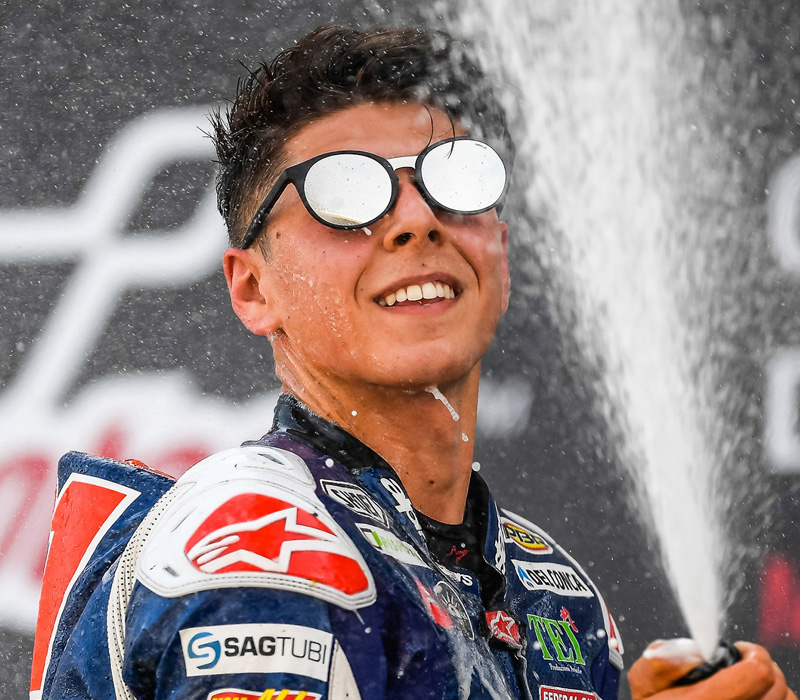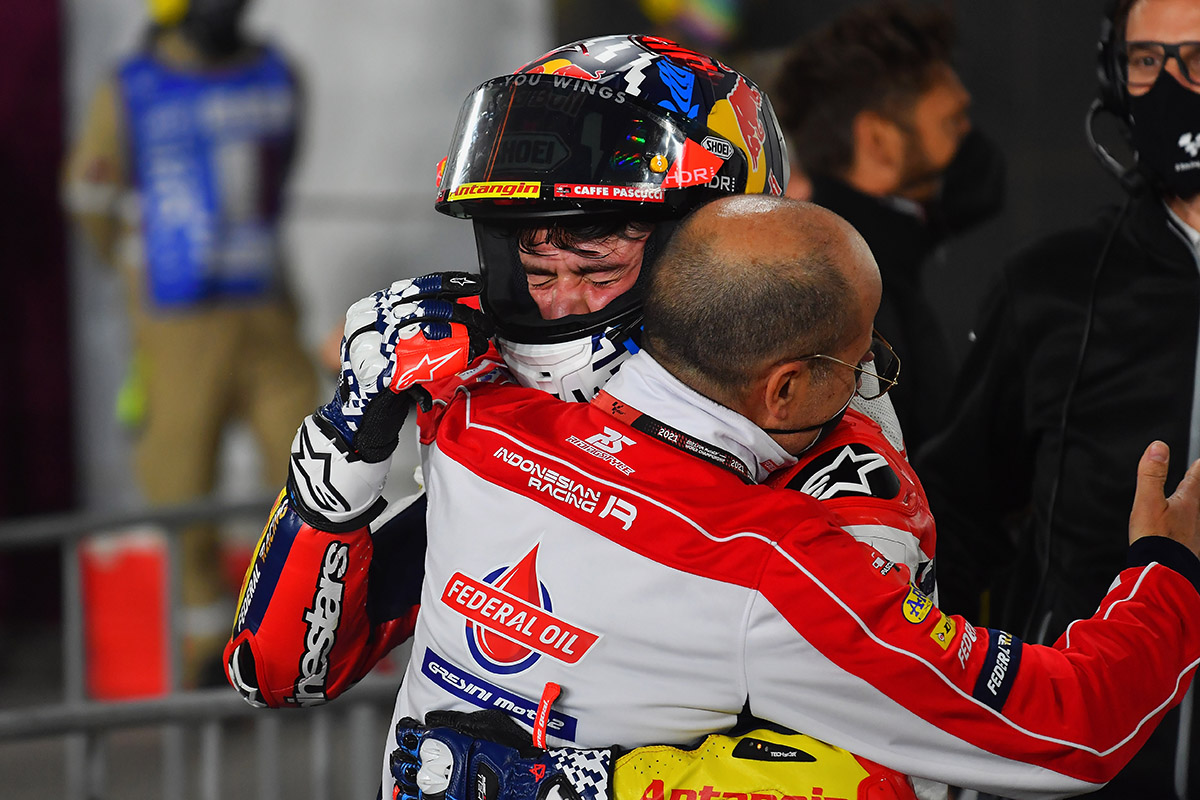 From the outside, life in the paddock always looks fun. Can you make friends with the other riders or is that impossible at this level of competition?
"Life in the paddock is a bit strange from time to time. I have a great relationship with some riders, a little less with others. But it's very difficult to become real friends when you race against each other. I have a few people at the track that I like to spend time with, but friends I have at home."
Social media is very important for riders these days for their public image and also for their sponsors. But this medium can also be a nightmare. How do you react to haters or criticism?
"Right, especially now social media is very important for an athlete to get in touch with his fans and to represent his sponsors. Of course there is always criticism, even haters, but for me it's just an incentive to prove them wrong. So I try to turn something bad into something positive."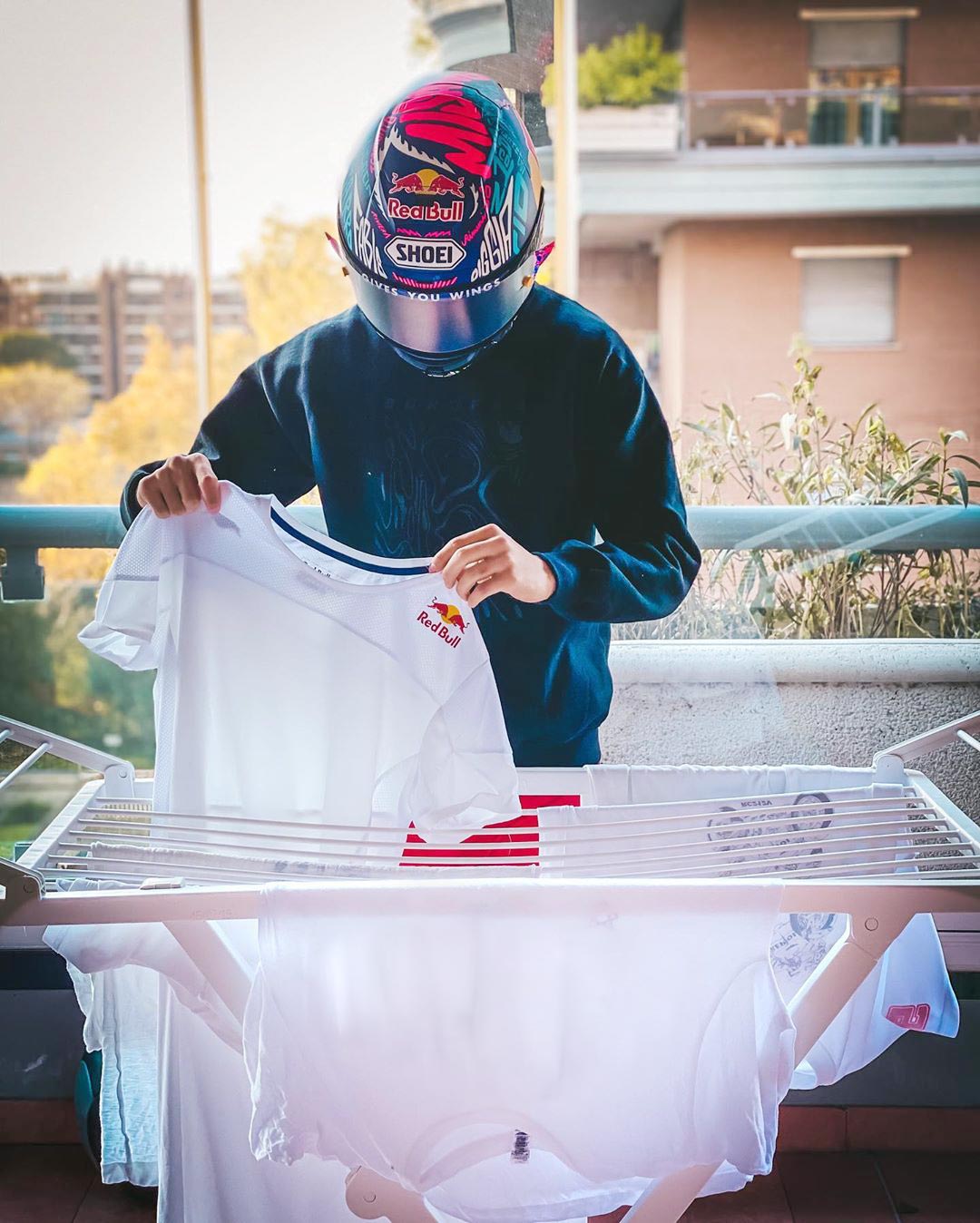 Speaking of social media, fashion seems to be very important to you. You were born and live in the fashion capital Rome. What are your plans for the future?
"I really love fashion, fashion is a big passion of mine. I have my own brand. Just for fun at the moment, but let's see what the future brings. For now, I have to concentrate on my job as a rider."
Where do you see MotoGP in a few years? Do you think it will go electric? Have you ever tried an e-bike?
"Electric vehicles are becoming more and more important. To be honest, I'm not a big fan of it because I love motorbikes with piston engines. If at some point in the future we had to race electric motorbikes in MotoGP, I would defini­­tely do it. It would be good for the environment and it might even increase the performance of the bikes. Who knows?"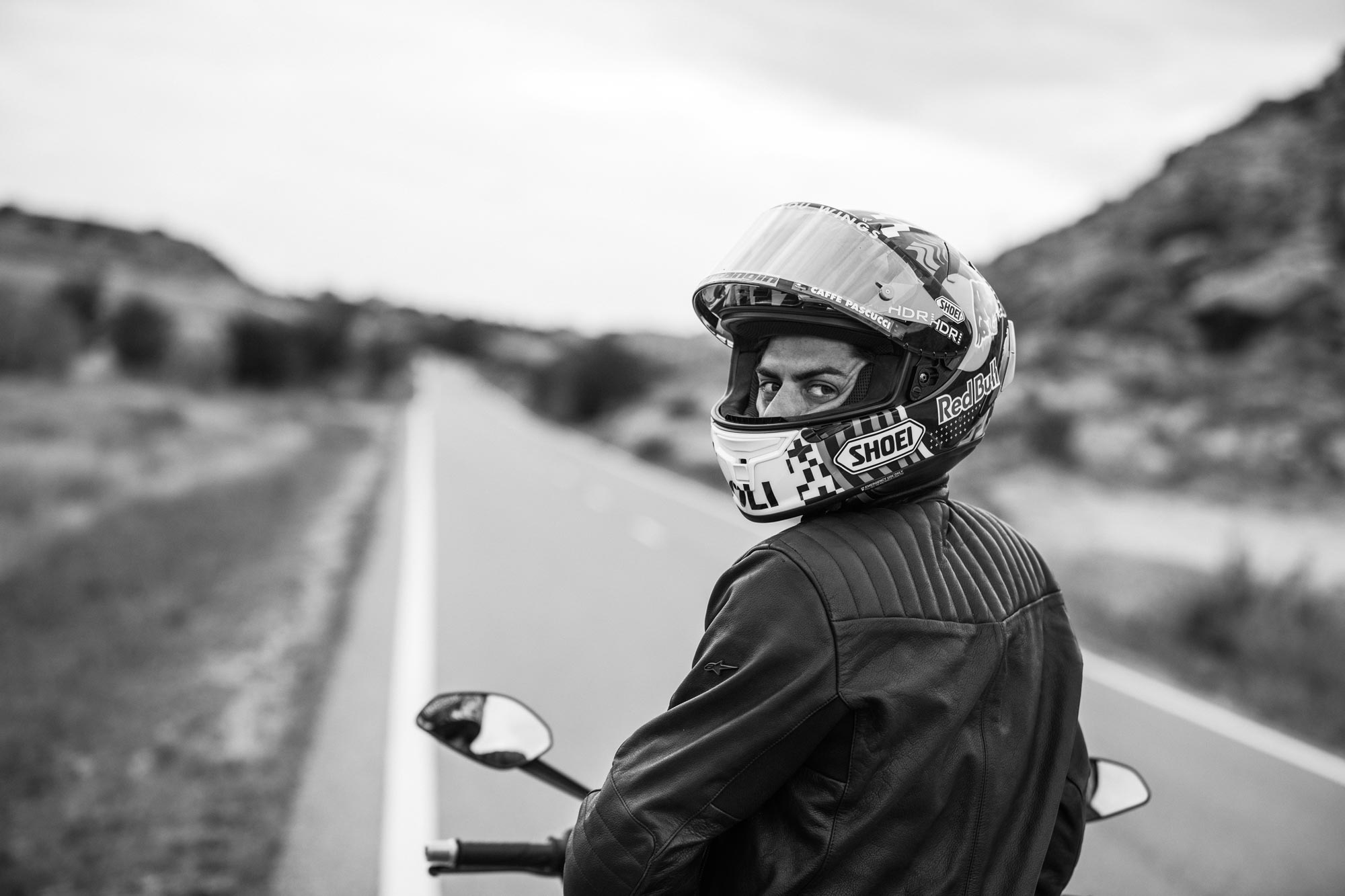 Track certified by the fastest riders on the planet, the Shoei X-Spirit 3 is a proven race weapon.
Fabio rides the Shoei X-Spirit 3